Well...it's 2013. Time for a clean slate and a fresh outlook. 2012 was definitely rough for me, but I decided, after several hours of emo reflection, that I no longer wish to dwell on what was, and only focus on what will be.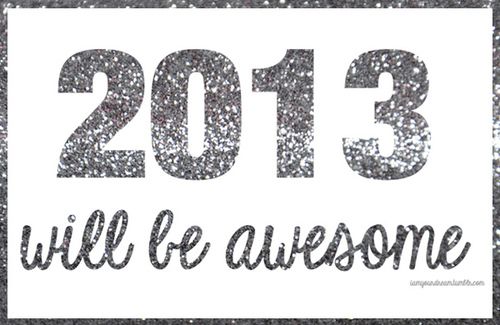 image courtesy of weheartit.com
As per usual, I'm writing my resolutions and hoping that it keeps me accountable for the rest of the year.
Write everyday.
I need to a be a more disciplined writer, especially if I intend to one day make it my profession. I tend to write in big waves, steadily for a week and then nothing for two weeks. It throws me completely off course and makes everything take twice as long. I resolve to write every single day and hit at least 1,000 words. I also resolve to finish revising my manuscript and start giving sections to pre-readers before the end of January.
Read.
I read 43 books this year! I'm actually fairly happy about it, and I want to keep on the same track of reading as frequently as possible. I am definitely going to make time for it everyday because reading makes me a better writer and a better person in general.
Make plans.
This one is so hard for me. I spent a lot of nights sitting on my couch solo in 2012. It never occurred to me to call (or text since I hate talking on the phone) a friend and ask if they wanted to meet up for coffee or a movie or drinks or whatever. Instead I sat, watched bad TV and felt lonely and left out while I watched other friends have fun via social media. This has nothing to do with anyone else, but everything to do with me feeling like everyone else has a life, and I would be intruding to try and be a part of it. There was a time when I was very social and had all sorts of funsies with girlfriends or family when I didn't have the princess. I would love to get back to that and spend a little less time with my TV and four walls for company.
Give up sugar.
So yeah, pray for me on this one okay? I am far too dependent on sugar as a food source. I know how bad that it is, how horrible it is for my body and how it's nothing but a false high that will cause me to crash and burn and feel depleted once it's over. I know that, but then you know, cupcakes. And then Dr. Pepper. And then snickerdoodles. How can you not love something with that festive of a name? The goal for 2013 is to make sugar more of a privilege and less of a right. I don't need it and I'm almost positive if I eat less, I won't want it as much. Again, feel free to add me to your prayer circle.
Be a great mom.
I'm going to try really hard not to get sappy. I will probably fail miserably but here goes. I know I'm a good mom. I provide the princess with food, shelter, clothing, education, and love. She knows I am here for her no matter what. She knows it so well that she takes it completely for granted, as children tend to do. I don't mind that because it comes with the territory and it means that I'm a good mom. But, I want to be a
great
mom. I want to be the kind of mom that doesn't beat herself up for not being superwoman. I want to be the kind of mom that makes little moments count instead of dwelling on all of the other moments I didn't get to have because I was working or she was with her dad. I want to be the kind of mom who knows what matters and spends more time focusing on my relationship with my daughter than any other outside influences. Like I said, 2012 was not easy but it taught me that the foundation of family that the princess and I have built is unshakeable, I never ever want to forget that. 2013 will be a celebration of us, like Gilmore Girls but with less sugar because as I mentioned, I'm trying to give that up.
Stop hesitating.
Basically, this is my 2013 version of YOLO. I second guess myself ALL THE TIME. I often have something to add to a conversation or (most often) Twitter discussion and I won't say anything because I'm scared of well...everything I guess. I don't like confrontation so instead of hitting a problem head on, I won't say a word and then hate myself for the rest of the day for not speaking up. Life is meant to be lived. I don't want to spend my life regretting all the things I didn't do or say. So yeah...as I incredibly stupid as I found that whole YOLO movement, it's totally true. You do only live once and I'm a grown ass woman who shouldn't be afraid of what anyone has to say. I'm awesome...it's time the rest of the world found out just how much.
Any resolutions for you? Any tips on how to keep myself accountable? Happy New Year again!