Tuesday: MAY I tell you something about myself?
I was 10 years old when I fell in love for the very first time.
His name was Office Tom Hanson and he was an undercover cop on a TV show called
21 Jumpstreet
.
At the time, I don't remember if I knew that his real name was Johnny Depp. I just knew that Officer Tom Hanson was a good cop with beautiful cheekbones, he often sported a headband, and he looked like this.
Um…swoon.
I think I slept with my copy of
Sassy magazine
with him on the cover for months.
Not too long after my love began, Officer Tom Hanson left Jumpstreet and was replaced by some greasy haired poser named
Richard Grieco
. That is of course when I stopped watching the show altogether.
Later on though, when Officer Tom Hanson became Johnny Depp and turned all independent quirky actor he went on to star in one of my favorite movies,
Edward Scissorhands
. Since Officer Tom Hanson looked nothing like a dude in a leather jumpsuit sporting scissors for hands, I focused less on my crush and more on the magicalness of the film.
Johnny still remains one of my first true original loves, even though sometimes he looks like this.
Or this.
Or even this.
It's nice when he remembers that he's beautiful and will suddenly show up in a film looking like this.
And this.
Good times.
Another one of my favorite Johnny Depp movies is
What's Eating Gilbert Grape?
. Funnily enough, I would end up later falling in love with someone else in that movie, though at the time he played a developmentally disabled teen and I only knew him as the cute kid from
Growing Pains
.
I think Johnny somehow became number two in my affections somewhere around here.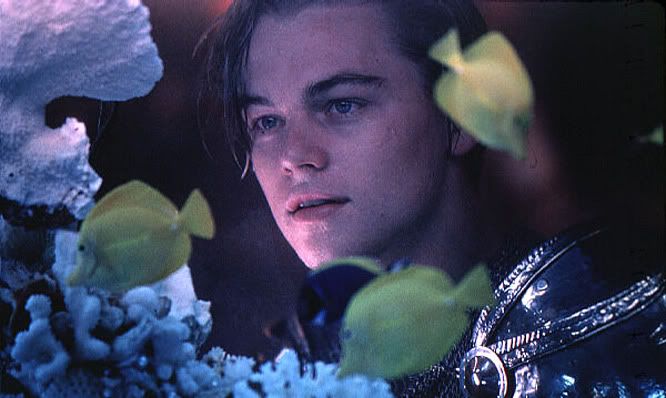 Why yes that is Leo in a fish tank.
Should I even mention how many times I've watched
The Great Gatsby trailer
?
The moral of this story? I was fangirling before it was a thing.
Oh and you never forget your first love.