Since the princess started elementary school, her usual commentary about her school day is infused with a high level of drama. I think most of it stems from a very Project Runway like philosophy....in 3rd grade you're either in or you're out.
The other night as she regaled me with stories from the sands through the hourglass that are the 3rd grade, I started thinking about how this elementary school clique thing is really only the beginning. I don't think we ever really outgrow the "In then Out" mentality from our formative years. In fact I daresay it only gets worse as we age since we eventually lose the ability to communicate with the cruel honesty that only a child can deliver.
As I've gotten older, I notice that my friendships have completely evolved from what they were 10, 5, or even 3 years ago. A decade ago I was close with quite a few people that I had known for the bulk of my life. We hung out together, commiserated together, and depended on each other for everything. Of course life as it inevitably does, evolved and everyone either married, divorced, had babies, changed jobs, moved out of state etc and the bonds that we formed have strained considerably.
Truthfully, in the case of some of my closest, oldest friends, things started out like this...
Right now they are hovering somewhere very close to this...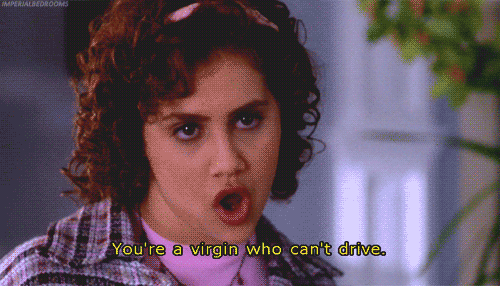 Last year, I found out my oldest friend said a bunch of horrible, barely true things about me to someone and it of course got back to me as gossip tends to do. She denies ever saying anything and our friendship has not recovered. In fact, we barely speak.
Another long time friend recently sent me a diatribe filled email regarding her feelings about the choices I make in my life and how she feels I'm not going down the right path. I don't know how mothering, book nerding, and cupcake-ing is the wrong path but you know...whatever.
Why are women so hard on each other? What exactly is the prize in this weird, passive aggressive, competition of awkward?
I learned a long time ago that the best way to have a good friend, is to be a good friend and so I try my best to always be one. Given the recent climate of my relationships with people I've known for most of my life, I don't think this desire is being translated that well and it makes me feel a bunch of different things.
Sad, because I miss the way things used to be.
Frustrated, because I have no idea what exactly happened to make things turn out this way.
Angry, because I can't think of anything that I have done in particular to deserve the level of disrespect, disdain, and disregard I've experienced lately.
Sigh.
When the princess comes to me with problems with friends at school, I have no problem putting on my mom hat and telling her to ignore the idiots who have nothing better to do than think of ways to hurt her feelings, and then encourage her to spend time with people who make her feel good about herself. Those people are her true friends. I tell her how amazing, creative, funny, beautiful, and smart she is that anyone at her school or in this world would be the luckiest person alive to count her as his or her friend.
I think I need to turn my mom hat on myself and take my own advice.
Anyone else experienced something like this with friends? What did you do? Am I a big crybaby for being upset?
Chime in.