Am I the only geek who loves award shows? I love the Golden Globes a lot more than the Oscars because everyone's drinking and tripping over each other as they navigate through those huge tables.
Sidebar - I actually have a recurring dream where I win a Golden Globe (Best Screenplay fyi) and my dress gets caught on Meryl Streep's chair and I trip and fall into Leonardo DiCaprio's lap. Instead of getting upset that I've landed all of my plus size arse on top of him (though in my dreams I'm always a LOT thinner), he does a scoop and hold like Kevin Costner did to Whitney Houston in
The Bodyguard
and gets me to the stage. I KNOW right?
Last night's Globes were a bit of a mixed bag. I was happy to see
The Social Network
win so many awards but I was really hoping something would go to
Inception
as well since for me it was the best movie of the year, maybe even my life. Some of my favorite moments:
Chris Colfer winning for Glee and saying he left his heart somewhere between Natalie Portman and Julianne Moore. Really his entire speech was awesome.
Paul Giamatti not being able to get over the fact that Halle Berry presented him with his Best Actor in a Musical or Comedy award
Robert DeNiro's Cecil B. DeMille acceptance speech. Totally awkward despite the fact that he's the greatest actor of our time.
Toy Story 3 winning Best Animated Film. (I may or may not have gone into the ugly cry when they showed the clip)
Jim Parsons winning Best Actor in a Comedy for "The Big Bang Theory." Bazinga.
Aaron Sorkin's acceptance speech for Best Screenplay. "Elite is not a bad word, it's an aspirational one."
Melissa Leo screaming "Mama I won a Golden Globe!" after her supporting actress win
Joseph Gordon Levitt's enthusiastic intro to the Inception clip. Hello adorable dimples.
Ricky Gervais making everyone in the audience profoundly uncomfortable which was hilarious to watch. I have to laugh at some of the celebs' reactions about him being mean spirited and what not, seriously go dry your eyes with a $100 bill.
Now my favorite part has always been the fashion! I love when everyone brings their A game and dresses up in all their fancy finery. I'm not a fan of Joan Rivers-esque critiquing so I'm only going to show the dresses I loved.
Anne Hathaway. Very 80s inspired but I thought she pulled it off beautifully and I especially loved the low back.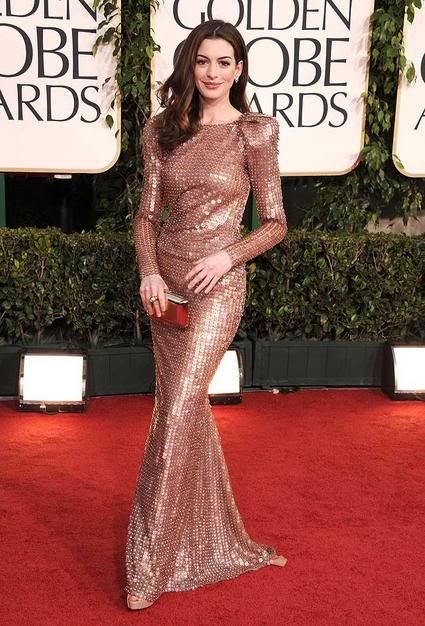 Mila Kunis. Loved the color and the drama. She looks like a movie star should look. I think everything about this dress says "suck it Macaulay Culkin"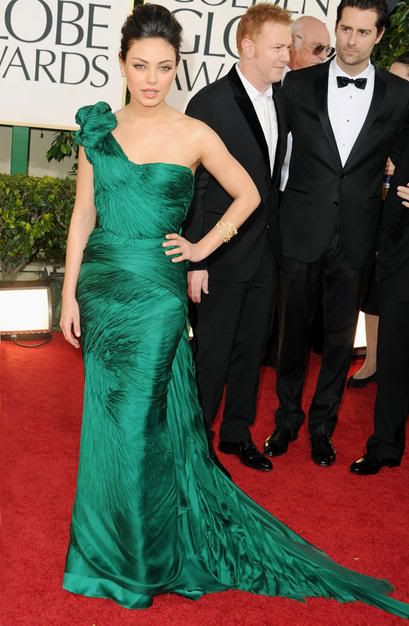 Christina Hendricks. I have such a girl crush on her. I love a girl who knows how to work the va-va-va voom. Plus she's a ginger!
Emma Stone. My girl got nominated for Easy A! I loved that movie and thought she looked young and fresh and very ingenue-ish. Well played Emma.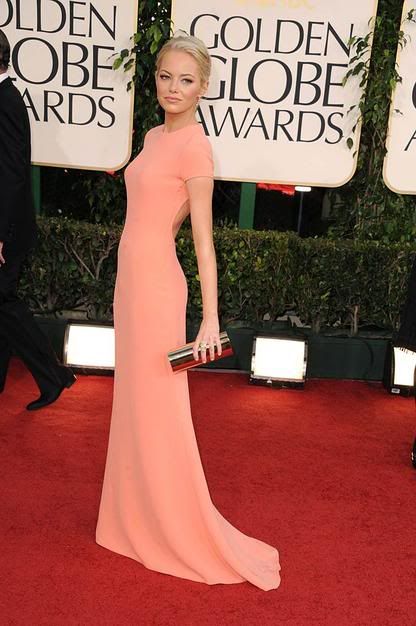 Claire Danes in my favorite color. Although I loved her Emmy dress much more than this, I think she looked beautiful and classy and was excited to see her win and get another chance to ogle her cutie pie British husband Hugh Dancy.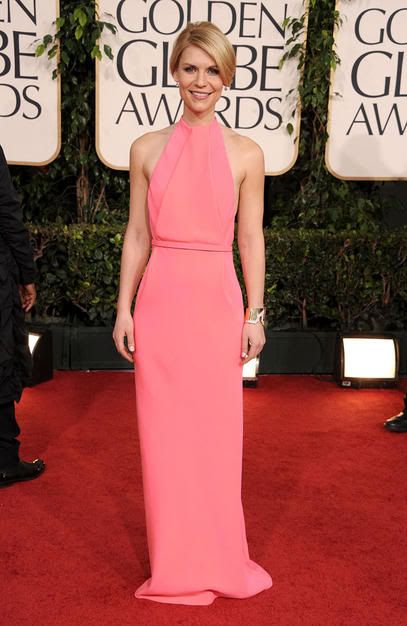 Really Halle? Really? Really? I totally understand Paul Giamatti's befuddlement. This is just unfair to the rest of us mere mortals.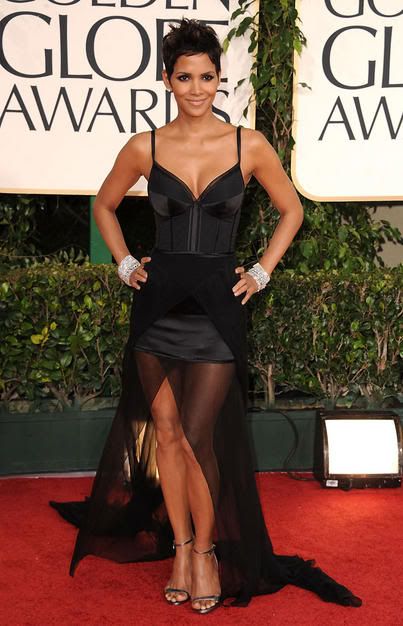 Did you watch the Globes this year? What was your favorite part? Who's dress did you love or hate?