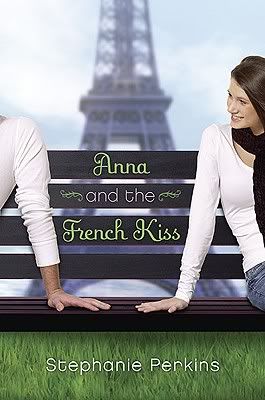 Disclaimer: This isn't going to be so much a review as it is a gushing mess of ZOMG this book is so freaking amazing!
Holy crap. Or I should say Holy
merde
. This book is absolutely freaking amazing! (told you so) I was lucky enough to be a part of an ARC tour my friend
Jessica
was kind of enough to organize after she won the book on
Stephanie's blog
. I was one of the first people to get it and read it back in October. I have been waiting (im)patiently for the last two months for the book to be released so I could talk about it and tell you to go and buy it IMMEDIATELY!
From Goodreads:
Anna is looking forward to her senior year in Atlanta, where she has a great job, a loyal best friend, and a crush on the verge of becoming more. Which is why she is less than thrilled about being shipped off to boarding school in Paris—until she meets Étienne St. Claire: perfect, Parisian (and English and American, which makes for a swoon-worthy accent), and utterly irresistible. The only problem is that he's taken, and Anna might be, too, if anything comes of her almost-relationship back home.
As winter melts into spring, will a year of romantic near-misses end with the French kiss Anna—and readers—have long awaited?

Ok so first of all, the characters in this book are so refreshing and REAL! Our heroine is a girl with dreams other than just landing the hot guy in school. She is funny, smart, ambitious, and level-headed while still maintaining all of her angsty teenage goodness which of course I love. The hot guy is not perfect but flawed and frustrating without being a complete jackhole. There are secondary characters and plot points that are fully fleshed out and not just placed as afterthoughts to fill up the pages. I was amazed at how true all of these situations read, I felt like such a part of the story as though I could just walk into Anna's dorm room, climb on her bed and crack open a pint of Ben & Jerry's until we figured her whole crazy life out together. I love it when books can do that.



Oh and

Étienne

? An American with a French name and a British accent? Needless to say I loved him. I'm not going to spoil but there is a whole chapter pertaining to Thanksgiving break...hotness. Seriously. That's all I'll say but oh yeah...hot plus ness.



This is Stephanie Perkins' debut novel. I am still amazed by that every time I think about how much I loved this book. She has such a gift for making the reader feel completely immersed in the world she creates, I am already looking forward to her next book Lola and the Boy Next Door which comes out in 2011.





If you love YA novels, Paris, Nicholas Sparks bashing, amazing chemistry between protagonists, cute boys with even cuter accents, intense sexual tension, films, books that make you feel happy on the inside, or just feeling happy in general, you will totally love this book.

Maureen Johnson's blurb of Anna and the French Kiss reads, "You should date this book." I'm going to take it a step further and say I don't want to date it. I seriously want to put a ring on it. Go and buy this book...today. You can thank me later.