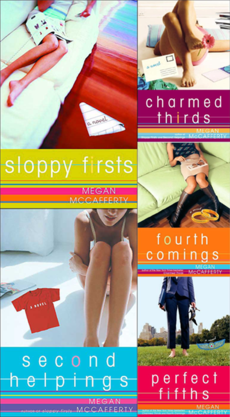 Let me start of by saying what a fan I am of book series in general. From Twilight to Harry Potter to the Little House books, I'm just in love with the idea of taking a journey with a cast of characters throughout the span of their lives. This series grabbed my heart from the beginning and held on to it throughout five books. Jessica Darling is seriously battling Harry Potter as my all time favorite.
To briefly sum up, Jessica Darling is a high school junior who is full of smarts, angst, and snark. The books are written in first person journal form where Jessica begins to write after her best friend and hetero life mate Hope moves to Tennessee. There are a lot of typical YA novel themes in the first two books such as Jessica's family not understanding her, the trauma of being without her best friend, her unrequited crush on a senior, and of course the age old question of when am I *finally* going to laid. I identified with Jessica so much because in high school I was SO her with the exception of the running (she's on the track team). I was an avid journal keeping brainiac who was without my best friend during high school, I had a hopeless crush on a guy who knew I was alive but didn't really care, and my family did not get me at all.
Then, there is Marcus Flutie. Marcus and Jessica shouldn't make sense. She's the brainiac, he's a juvenile delinquent/druggie. He's a manwhore, she's a virgin. Inexplicable forces brought them together and the five books chronicle their relationship or(lack thereof in some cases) as well as Jessica's transformation from angsty snarky girl to mature, confident, Ivy League educated young woman.
I could go on and on about this series and how much I loved it but just trust me when I say read them. There's plenty of witty observations, pop culture trivia, and crazy characters to keep you turning pages throughout all five books. Oh and as a bonus, there are haikus in the fifth book. Haikus so intimate, so sexy, that the word nerd in me did a reread of them 3 0r 4 times before proceeding with the rest of the book! You're welcome.